High search engine rankings matter. Here's Why:
First place positioning wins at least 40% of all search traffic.
The top three search positions win more than 60% of all visitors.
Your site will attract as many visitors in first place as second to eighth place combined.
Only 10% of searchers will ever look beyond the first page.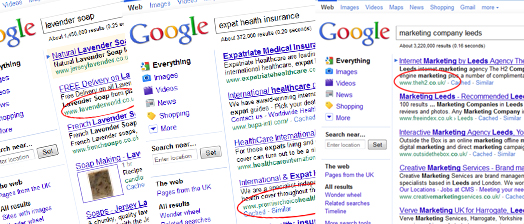 On high volume searches these percentages represent huge disparities in traffic, subsequent conversions and bottom line profits - the difference between online success and failure.
You need to rank highly in the organic / natural listings. Your Return On Investment depends on it.
Out Of Sight, Out Of Pocket
If your website isn't ranking, as a minimum, on page one of the search engines (for search engines read Google), then it is under performing and probably not reaching its full online potential. All you can do is stand by and watch as traffic and, potentially, profit, flows in the direction of your competition.
Don't Take Chances With Your Rankings
Top search rankings are too important to take risks with. Get it wrong and your online profile will choke.
Insist on an SEO partner with the experience and expertise to take your site all the way to the top, ethically and sustainably. When it comes to keywords that matter, and the terms you consider that you MUST rank well for, you should only trust your digital search strategy to a team with a proven track record. We have.
Here are some of our successes, powerful, high value rankings based on competitive search terms, that have made a real difference to client Returns On Investment.
At varying times we have achieved top five positioning in Google for the following keywords:
| | |
| --- | --- |
| - funeral directors | - gravestones |
| - lavender | - lavender essential oil |
| - dried lavender | - recycling bins |
| - waste containers | - expat health insurance |
| - corporate health insurance | - seo advice |
| - seo services uk | - networking tips |
| - cheap hotel deals | - hotel chains |
| - car covers | - recycled plastic |
| - rise and recline chairs | - and many, many more! |
We make no spurious claims on obscure long tail phrases, or use dubious SEO techniques – just highly effective SEO that strengthens your position at the top end of Google and delivers business benefits.
Call us on
08700 503 574
or mail us at
info@theh2.co.uk
for more information on how H2 can boost your search positioning and help you build your business online.