What is your website's market positioning? Its objectives?
Does your site engage the right audience(s) in order to achieve those objectives? How can you get the most out of your site in order to support your end game?
The answers to these questions, in the form of a clearly defined online strategy, not only helps establish the foundations for your online presence, but also shapes your success over time.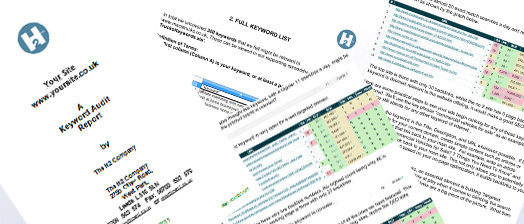 Thoughtful Marketing
Online strategy evolves daily, but to make it effective and, indeed, successful, it is essential that you clearly identify a profitable market positioning online. Establish your competitive advantage, the correct pricing point, and understand where you sit in the marketplace.
At H2 we work hard to identify less competitive keyword opportunities or, where the route to market is digitally tough, how best to negotiate the path. We focus on a results driven approach and, by continually testing, measuring and comparing performance, we identify the most effective way for you to spend your online budget.
Remove the 'guess' factor and let us help you evaluate:
Natural targeting.
Keyword conversion levels.
Brand / Commercial keywords.
New technologies, platforms and opportunities.
We even test the efficacy of keywords using Pay Per Click (PPC) analysis for fast and accurate performance data.
Positive Outcomes
Priorities established, H2 can pull together the varying elements of your digital strategy to deliver tangible results:
Higher, more relevant search placements
More traffic
Better qualified traffic
Stronger conversion rates
Faster, healthier Returns On Investment
So if you are:
Considering a new-build but unsure of what to focus on
Disappointed that your site isn't fulfilling its potential
Unsure that your keywords are delivering
Frustrated that the competition always seems to be one step ahead
Looking for fresh inspiration
In need of informed direction
Call us on
08700 503 574
or mail us at
info@theh2.co.uk
. We'll tell you everything you need to know about successful online strategy.